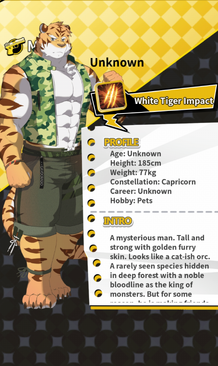 Age: Unknown
Height: 185 cm (6 ft 0 in)
Weight: 77 kg (169.4 lbs)
Constellation: Capricorn
Career: Unknown
Hobby: Pets
36x36px
White Tiger Impact
Causes damage to 1 target, with a chance to trigger Slaughter that kills an enemy. A special skill from the ancient mysterious Forest Tribe. Well, nobody can resist furry paws.
A mysterious man. Tall and strong with golden furry skin. Looks like a cat-ish orc. A rarely seen species hidden in deep forest with a noble bloodline as the king of monsters. But for some reason, he is making friends with human and trying to fit in the society. Looks strong, reliable and serious, but a big cat from inside.
Fresh look1
Naturalism1
A guide1
Fresh look2
Naturalism2
A guide2
Naturalism3
A guide3